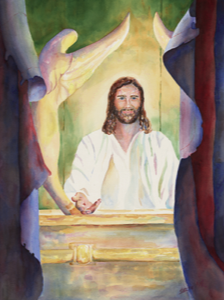 The Legacy & The Tool
Fine Art Giclee Prints on 300# watercolor paper 16.5 x 22.25 fits standard 22 x 28 frame. SOLD directly from us, AT COST, $44.50.
Shipping Includes special box, packing, and postage anywhere in U.S. Cost is $20.54 or less depending on where you live.
E-mail or call us to order.
________________________
OR - choose one of these sizes, AT COST, from

www.cafepress.com/SharmanArt

- 22 x 35 Dorm Poster with title on bottom. $17.99
- 11 x 17 Poster with title $4.99
- 15 x 19 Framed Print $34.99
Buyer Info:

To order art print: send money order made out to Sharman Slye to 3218 Waring Rd., Oceanside, CA 92056.

Someone is usually in the office from 8 - 10 am and 3-6 pm PST to answer the phone, if you can't e-mail.
Art Print Return Policy:

Buyer has 10 days to return item. Buyer pays return postage. Refund will be made when undamaged print is received, minus a $5.00 restocking fee.
Tax:
California residents add 8.25% tax
The Family Rapture Legacy KIt
12 x 16

FAMILY RAPTURE LEGACY™ Kit is a
FREE DOWNLOAD

Caption box reads:

The truth about ...THE DISAPPEARANCES. Open the envelope after it happens.
Complete instructions for this Interactive Evangelism Kit are included to tell you what to do when curious friends ask...

"What is that letter under the glass?"

WARNING:
Dial-up takes 28 minutes to download art print and
approx. 10 minutes per letter page. BE PATIENT. Then take a copy of this page to get a mat cut.

Fits a standard 12x18 frame.
Double Mat Not Included.